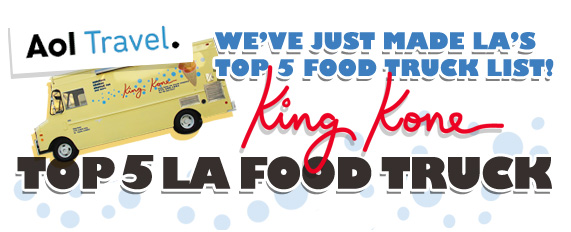 Looking for LA's Best Food Trucks?
King Kone has as one the Top 5 Best Los Angeles Food Trucks by AOL Travel!
…says the AOL site:
"For ice cream lovers who prefer classic soft serve, Kong Kone is the truck to track down. King Kone swirls creamy soft serve ice cream dipped in premium milk chocolate. Their frozen treats include sundaes, milkshakes, banana splits, floats, and ice cream sandwiches. The truck also makes flavored shaved ice. Each classic ice cream truck item is served with a smile from a impossibly cute yellow truck with a big happy ice cream cone design on the side. Always in demand for parties and film sets, if you see King Kone out on the street, be sure to stop for a cone…"
We want to give a big shout out and thanks to everyone who voted for us, or the food truck judges out there, or whatever taste formula was used to create the list!
Wondering where King Kone is driving to next?