Daily Menu
Here at King Kone, we take pride in given you the freshest and highest quality treats. Check out our yummy menu below. You can find any of these treats on our Los Angeles ice cream delivery truck. Hungry? Find out where we are and "follow us" right now on twitter! Or simply check out the King Kone LA Twitter Feed on the right hand column of the site…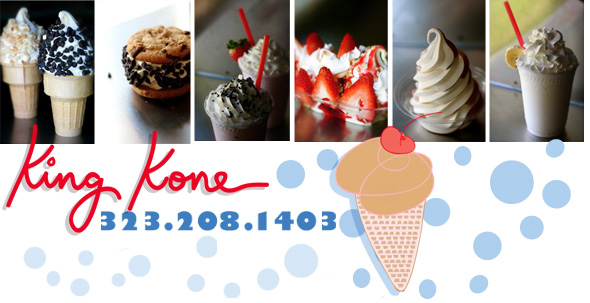 Cone


Vanilla, Chocolate, Swirl




Sundaes

Chocolate, Stawberry, Caramel

Oreo Sundae

Delicious sundae topped with crumbled Oreos,   
choc sauce, whipped cream and a whole Oreo on top

Milkshakes

Vanilla, Chocolate, Strawberry, Banana, and Oreo
(Includes whipped cream and cherry)

Espresso Shake

Vanilla soft serve blended with coffee and
chocolate covered espresso beans
Whipped cream

Slim Shake

Made with nonfat milk and lowfat ice cream

Floats

Root Beer or Cola
Strawberry
Orange

Dipped Cone

Premium milk chocolate
(We are kinda famous for these!)

Rocky Mountain

Creamy ice cream set on a cone,
dipped in chocolate and rolled in almonds

Shaved Ice (Snowballs

)

Wild cherry, blue raspberry, cotton candy,
banana, sour green apple, pina colada, and
tiger's blood

Avalanche

An irresistible combo of creamy ice cream and
shaved ice topped with the flavor of your choice
(see above)

Ice Cream Sandwich

Chocolate or Vanilla ice cream
sandwiched between two delicious cookies
and rolled in a topping

Mini Split (New!)

Pint sized banana split w/a topping of your choice

King Kone

King sized sundae with all toppings of your
choice in a yummy King sized waffle cone

Bangin' Banana Split

3 mounds of ice cream, chocolate, strawberry, caramel, banana, whipped cream,
nuts, cherries, & topped w/ a butter waffle cookie!

Toppings
Chocolate
Sprinkles
Pineapple
Crushed Oreos
Strawberry
Chocolate chips
Caramel peanuts
Chocolate dip

We look forward to hearing from you!
323-208-1403